ORDERS SHIPPED OUTSIDE OF THE UK MAY BE SUBJECT TO LOCAL TAXES AND DUTIES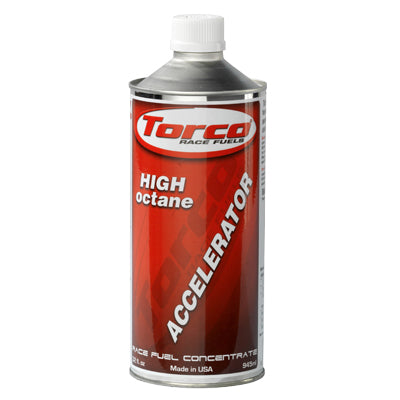 Torco Unleaded Accelerator
This product is currently unavailable.
Torco Accelerator is not just another octane booster, it's simply a Race Fuel Concentrate!
With many of the same additives that our winning race fuel possesses, Torco Accelerator contains a blend of components which will transform the make up of premium pump fuel to closely resemble race fuel. 
Torco accelerator lowers the end burn temperature which makes fuel burn more completely thus releasing all of the power that your engine has to offer. Efficiency equals horsepower! All this while raising the octane of your fuel.
Torco Accelerator is unleaded, so it won't harm sensitive O2 sensors or catalytic converters.
Benefits
Add 250ml of Accelerator to 20 litres of fuel to raise the Octane rating of your fuel by 4
Add 500ml of Accelerator to 20 litres of fuel to raise the octane rating of your fuel by 11
Add 1 litre of Accelerator to 20 litres of fuel to raise the octane rating of your fuel by 14