ORDERS SHIPPED OUTSIDE OF THE UK MAY BE SUBJECT TO LOCAL TAXES AND DUTIES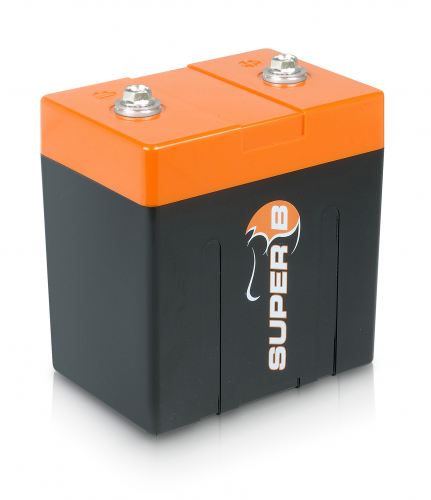 Super B 10P
Brand:
Super B Lithium Batteries
This product is currently unavailable.
Super B introduces a revolutionary new battery type, specifically designed for motorcycles, cars, jet-skis, snowmobiles, ATV's, quads and micro-lights. This new range of batteries, based on Lithium Ion technology is a direct replacement for the conventional lead/acid battery.
The Super B Lithium Battery is MSA Approved for use in motorsports.
Please note that only Lithium specific battery chargers can be used on all Super B batteries.
Voltage - 12V
Terminals- M6 Female
Weight - 1.75kg
W120mm x H127mm x D82mm
Equivalent to a 20 to 32 Ah lead/acid battery
This battery is recommended for Racing cars up to 2000cc, including Formula Fords, Formula Renault, Lotus Elise, Caterhams, etc
Benefits
Weighs approximately 80% less than equivalent lead/acid battery
Faster recharge
Battery fully charged within 5 minutes of starting the engine
1/3 size of equivalent lead/acid battery
Long lasting - 5 years' service life
Low self-discharge rate, only 10% per year
Excellent extreme temperature starting