SAVE 20% ON THERMO-TEC - Discount automatically applied at checkout!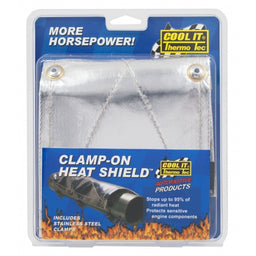 Thermo-Tec Pipe Shields
This product is currently unavailable.
The new and improved flexible clamp-on pipe heat shield blocks over 95% of the damaging radiant heat of the exhaust. The High-tech composite construction of the heat shield provides the ultimate in protection.
The kits come complete with all clamps and new stainless stand offs. Installs in minutes.
Clamp-on pipe heat shields are available in one, two and three foot lengths. Clamp-on pipe heat shields incorporate Thermo-Tec's proprietary coating technology developed by Thermo-Tec, Thermal Conduction Technology.
Keep the radiant heat from an exhaust, from going in a certain direction.
Benefits
Installs in minutes
Blocks over 95% of the damaging radiant heat
Available in one, two and three foot lengths
ORDERS SHIPPED OUTSIDE OF THE UK MAY BE SUBJECT TO LOCAL TAXES AND DUTIES