ORDERS SHIPPED OUTSIDE OF THE UK MAY BE SUBJECT TO LOCAL TAXES AND DUTIES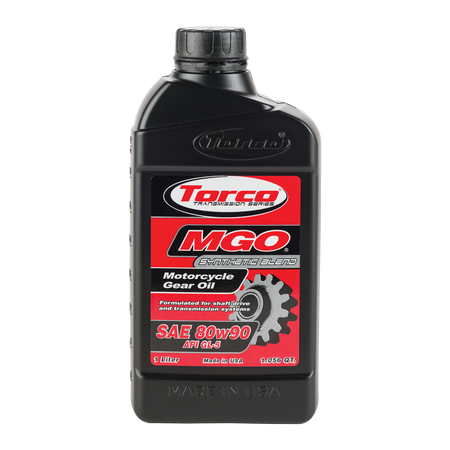 Torco MGO Motorcycle Gear Oil 80W-90
This product is currently unavailable.
Our MGO Motorcycle Gear Oil 80W-90 is made with a select combination of synthetic and petroleum base oils that have high shear resistance and extreme pressure protection.
MGO is fortified with shear stable polymers, rust inhibitors, foam suppressants, anti-wear, extreme pressure additives and pour point depressants. This careful balance of additives provides all gear and final drive components the highest degree of performance and protection over a wide temperature range.
Benefits
Synthetic blend formula
Formulated specifically for final drive systems
Shear resistant and thermally stable
Protects under severe shock loads, heat and high speeds
API GL-5