ORDERS SHIPPED OUTSIDE OF THE UK MAY BE SUBJECT TO LOCAL TAXES AND DUTIES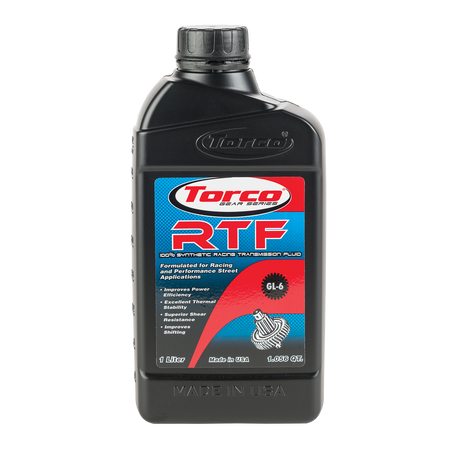 Torco RTF Racing Transmission Fluid
This product is currently unavailable.
Torco RTF Racing Transmission Fluid is 100% synthetic and is specifically engineered to reduce fluid drag for increased power efficiency without compromising component durability.
It is made from a combination of specially selected 100% synthetic Group IV/V base oils proving superior shear resistance and extreme temperature stability.
RTF is specially formulated to exceed the load-carrying and extreme pressure wear protection properties of higher viscosity GL-5 or GL-6 gear oils.
RTF provides anti-score protection for high speed, high load, and high torque shock-loading conditions while allowing the smooth operation of synchronizers.
Benefits
Group IV/V 100% Synthetic Formula
Maximizes power throughput
Reduces gearbox temperatures
Superior level of shock load, EP and wear protection
API GL-6