ORDERS SHIPPED OUTSIDE OF THE UK MAY BE SUBJECT TO LOCAL TAXES AND DUTIES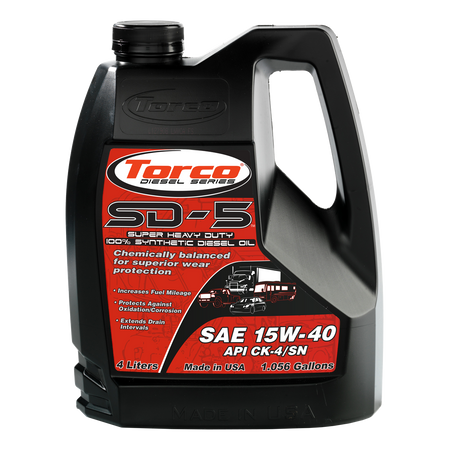 Torco SD-5 Synthetic Diesel Oil 15W-40
This product is currently unavailable.
Torco SD-5 100% Synthetic Diesel Motor Oil conserves energy and resources by increasing fuel mileage and extending oil drain intervals.
Formulated using premium synthetic base oils with a balanced anti-wear system, SD-5 provides superior wear protection for today's hard-working heavy-duty diesel engines. The high alkaline reserve protects vital engine components from corrosive acidic byproducts.
SD-5 is low SAPS to protect your engine from wear, even in the presence of soot and other contaminants, while meeting the performance requirements of virtually all HD diesel engine manufacturers.
Benefits
100% premium synthetic base oils
High TBN and low SAPS additive packet
Advanced detergents and dispersants provide reduced sulfated ash
Outstanding corrosion and oxidation control