ORDERS SHIPPED OUTSIDE OF THE UK MAY BE SUBJECT TO LOCAL TAXES AND DUTIES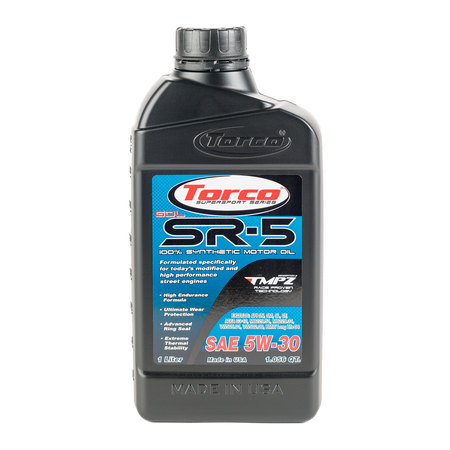 Torco SR-5 GDL 100% Synthetic Motor Oil
This product is currently unavailable.
SR-5 offers the highest level of performance in the Torco Super Street Series line of motor oils.
It is a combination of Group IV PAO and Group V Ester base oils. SR-5 incorporates the same advanced additive system as in the SR-1 covering specifications for Domestic, Asian, and European vehicles. SR-5 can extend oil changes up to 15,000 miles.
Available in 5W-30 and 5W-40
Benefits
100% PAO and ESTER synthetic formula
The highest concentration of performance additives allowed by API/ILSAC/ACEA
Ester technology prevents deposit formation to keep your engine clean
PAO base oils and advanced friction-reducing additives lower operating temperatures and enhance efficiency
Shear-stable polymers ensure continued long-term engine protection at high temperatures