ORDERS SHIPPED OUTSIDE OF THE UK MAY BE SUBJECT TO LOCAL TAXES AND DUTIES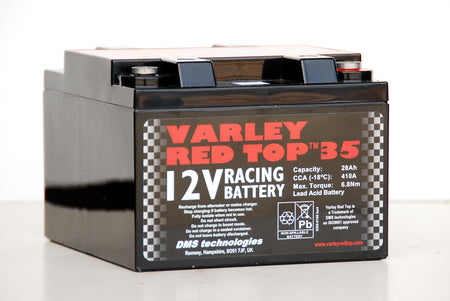 Varley Red Top 35 Racing Battery
This product is currently unavailable.
Varley Red Top batteries have been designed to produce the very high cranking currents needed for engine starting from the smallest possible battery. The use of Absorbed Glass Mat (AGM) technology ensures that the batteries are of the highest possible quality in terms of both performance and safety.
Please note that this battery is a direct replacement for the Red Flash 750 Morgan Battery. This battery does not come complete with normal automotive battery posts and if these are needed, they can be ordered separately on our website.
Specification of the Red Top™ 35
• Voltage - 12V
• Capacity - 28Ah
• Terminations - M6 Female
• Weight - 10.4kg
Dimensions (mm) (LxHxD) - 165 x 125 x 176
Max. Discharge current (20°C for 30 secs) - 700A
Benefits
Sealed construction, no maintenance
Excellent shock & vibration characteristics
Wide operating temperature range
Fast recharge - no current limit providing a voltage-regulated charger is used
Fully absorbed electrolyte will not leak if damaged
Can be fitted upright or on its side
Small, slim batteries fit into restricted space
High cranking current provides excellent power to weight ratio
Ideal for engine start, especially in harsh environments
Non-hazardous transport by land, sea and air