ORDERS SHIPPED OUTSIDE OF THE UK MAY BE SUBJECT TO LOCAL TAXES AND DUTIES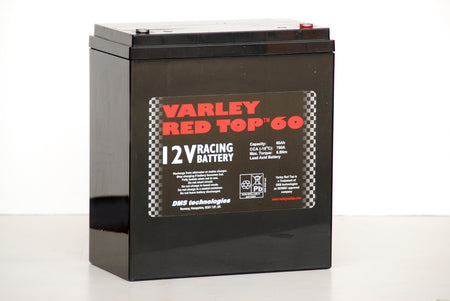 Varley Red Top 60 Racing Battery
This product is currently unavailable.
The Varley Red Top™ Battery Range offers very high performance for race and rally applications. Designed and engineered to a high specification for motorsport use, the Varley Red Top™ can withstand even the harshest of conditions.
With high shock and vibration resistance, the Varley Red Top™ batteries have proven to be an excellent choice for race and rally cars. Small, lightweight, maintenance free and with an exceptionally high discharge capability, these batteries can be fitted upright or on their side and will not leak acid even when damaged.
Specification of the Varley Red Top™ 60
• Voltage - 12V
• C/10 Capacity - 60Ah
• Terminations - M6 Male
• Weight - 20.3kg
• Dimensions (mm) (LxWxH) - 220 x 121 x 250
• Cranking Current 20°C for 5 secs 1.2V/Cell - 1400A
The Varley Red Top™ 60 is typically used in GT's, Supercars, 4X4, WRC, BTCC, Dakar Rally Raid, 4x4, LMS, ALMS.
Benefits
Exceptionally high cranking power
High shock and vibration resistance
Maintenance free, sealed construction
Lightweight and compact
No topping up
Can be installed upright or on their side
No electrolyte leakage (even if the outer case is damaged)