ORDERS SHIPPED OUTSIDE OF THE UK MAY BE SUBJECT TO LOCAL TAXES AND DUTIES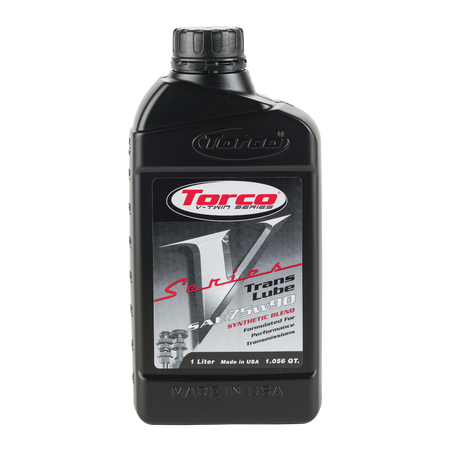 Torco V-Series Trans Lube 75W-90
This product is currently unavailable.
Torco V-Series Trans Lube is a synthetic and petroleum based formula designed to protect all gear face surfaces and bearing components found in Harley Davidson and after market transmissions.
Our race proven extreme pressure and anti-friction chemistry promotes the highest degree of protection for extended transmission life. This shear stable formula also provides smooth shifting and prevents the formation of rust and oxidation which is critical during storage or infrequent use.
Recommended for use in all 4 and 5 speed FL, FLT, FX and FXR transmissions. 
For combined primary chaincase and transmissions such as those on the Harley Davidson Sportster series, please use Torco V-Series Primary Chaincase Lubricant 
Benefits
Excellent shock load protection
Extends transmission life
Provides smooth, positive shifting
Superior anti-rust and oxidation protection
Exceeds API services GL-6
V-Series Trans Lube
pdf

V-Series Trans Lube

Download
Torco V-Series - V Twin and Harley Davidson oil
Torco V-Series - V Twin and Harley Davidson oil
Torco V-Series is a range of specialist oils formulated for use in Harley Davidson and v-twin motorcycles. Mineral and sythentic 20w50 v-twin oil offering ultimate protection and performance. Primary chaincase lubricant and transmission lube custom blended for use in Harley Davidson and similar transmissions.
Shop All